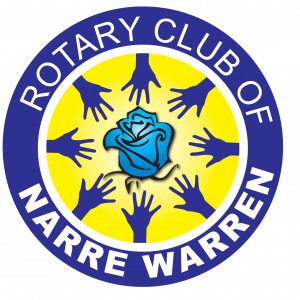 The Rotary Club of Narre Warren was chartered in 1976 by the Rotary Club of Berwick as the 35th Club in what is now Rotary District 9820.
We recently swapped to having 2 meetings per month rather than weekly meetings to better allow for people's modern busy lifestyles. Sub committees often meet on off Wednesday night to plan their projects and events. We currently have about 26 members and like all Rotary clubs we have a mix of friendship, community work, local and international projects, networking and improving our skills to keep us occupied. Sometimes its just a simple BBQ and sausage sizzle and sometimes its holding a major event such as a car show, golf day, a book fair or planning to add faculties to local parks.  Everybody at the club has a skill or interest they want to contribute to the effort and we get things done but have a good time doing it while making new friends and being part of the WorldWide organisation that is Rotary.
Rotary started out in 1905 and a lot of things have changed since then, Rotary in the 21st century is not the old boys club it may have been in the past with many accomplished women holding seniors positions as Presidents and District Governors in Rotary and a growing female membership.  Modern Rotary is a diverse range of people from different vocations, cultures and backgrounds who come together for a common purpose of meeting new friends and doing some good in the community.

Being part of the Worldwide Rotary Organisation give us a structure, support and contacts of other clubs in the area who can help us with our projects and we can help them with theirs. Rotary has 1.2 million members in 35 000 clubs in over 200 countries around the world and is the biggest community service organisation in the world.
We have had projects such as the Berwick Highland Gathering, ANZAC Day breakfast, ANZAC memorial gates, clean up of Harkaway cemetery, BBQ sausage sizzles, golf day, school repair and reconstruction in Tonga, fresh water projects in India, education projects in India, local school soccer tournaments, hosting youth exchange students, attending  district conference, attending international conference, the world wide Polio Plus program, sponsoring local students for leadership programs and much much more.
We currently have a strong focus on adding to the some more community facilities to a park in Narre Warren, generating closer business ties in the area and adding more social activities to our club calendar.  We also continue to manage the breakfast for the ANZAC day ceremony at the new Bunjil Place on ANZAC day.
Rotary Narre Warren are changing with the times and moving our community forward.