Rotary Youth Exchange
Rotary International has a very successful youth exchange program when student aged youth spend a whole year in another country and are hosted by Rotary Families in that country. This program provides for a greater international understanding between countries  and life long friendships between fellow students and host families.
Over recent years the Rotary Club of Narre Warren have hosted Evita from Netherlands, Nic from Italy and are currently hosting Clara from Germany.
Clara arrived on the 28th July from Luesche, Germany and is sponsored by the Rotary Club of Vechta in Bremen, Germany. As she will be here for a year she will attend a local school  and stay with a number of host families, participate in a number of Rotary community project, tour Australia with other exchange students from around the world and truly experience Australia.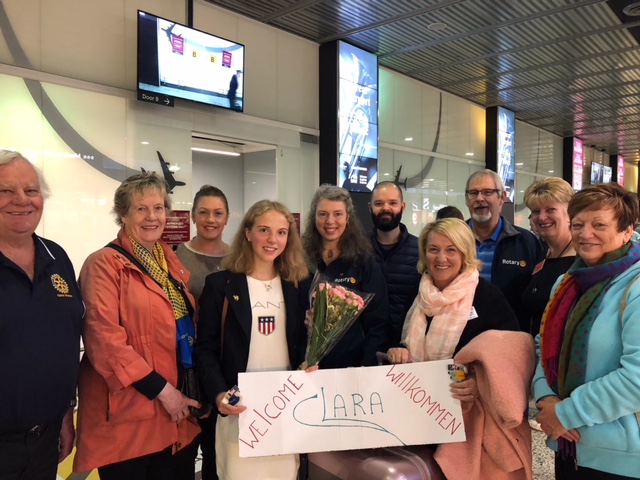 Education project India 
A project of the Rotary Club of Narre Warren D9820 Australia. Dr Subbarao and Ranganath and the team give outstanding service to their local community in Dharmavarum, and we are very pleased to share friendship and service with them. The start of the new school year is difficult for families, and a further 150 children are now attending school ie $1,050 supplied bags and all books and requirements. The little faces say it all..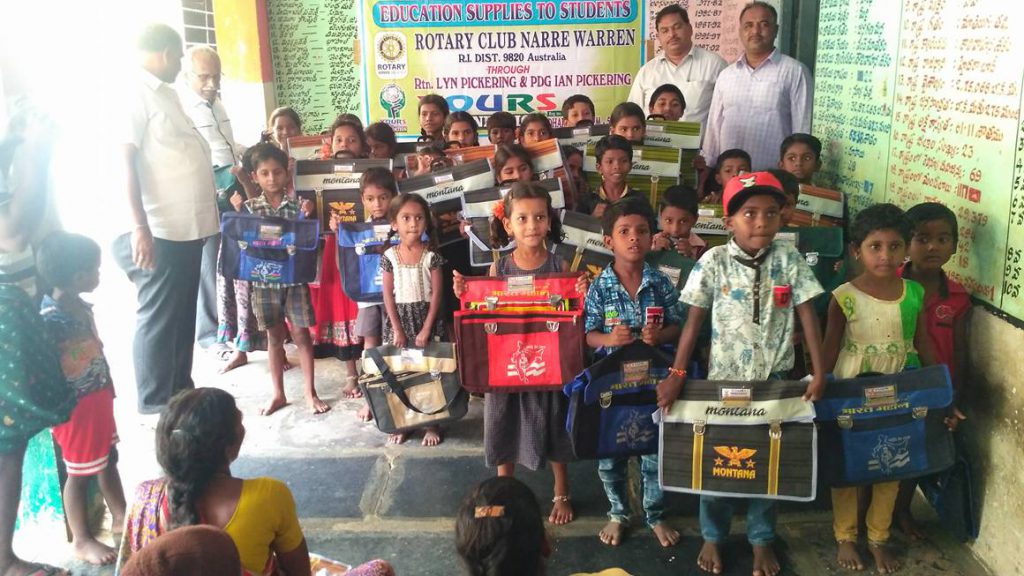 PolioPlus
PolioPlus, a project of The Rotary Foundation is clearly the most ambitious humanitarian initiative in the history of Rotary International, together with partners the United Nations, World Health Organisation and the Bill and Melinda Gates foundation we aim to completely eradicate Poilo.  For more than 20 years, Rotary has led the private sector in the global effort to rid the world of this crippling disease. So far over two BILLION people have been immunised under this program.  Yes BILLION with a B.  In 1985 there were 385 000 cases of Polio in 129 countries now thanks to the PolioPlus program;  today Polio is only endemic in only three countries, the lowest in history. Polio can cause paralysis and sometimes death.  Because there is no cure for polio, the best protection is prevention.  For as little as US$0.60 worth of vaccine, a child can be protected against this crippling disease for life. Today, PolioPlus and its role in the initiative is recognised worldwide as a model of public-private cooperation in pursuit of a humanitarian goal. In addition to providing financial and volunteer support, Rotary works to urge support from other public and private sector partners.   This includes the campaign to End Polio Now, inspired by the extraordinary challenge grants received from the Bill & Melinda Gates Foundation.
Interplast Australia & New Zealand
Interplast Australia & New Zealand is an independent company that has been supported by Rotarians since its inception in 1983 as a partnership between a Rotary district and the Royal Australasian College of Surgeons.   Interplast sends teams of surgical and medical volunteers throughout each year to developing countries in the Asia-Pacific region to carry out life-changing surgical treatment at no cost to patients.  Another benefit of an Interplast program is in the training provided to local practitioners. There are around 30 programs a year, and Interplast teams typically include two plastic and reconstructive surgeons, an anaesthetist and two specialist nurses.  They take with them surgical and medical equipment for around 80 operations during a two-week stay.  The cost of a program is now in the order of $45,000 and Rotarians provide about half the funding each year. 
Many Rotary clubs and individuals have funded an entire program. In the last decade, over 50 Rotarians have accompanied an Interplast team as observers for a part of the visit.  They are available to speak of their experiences at Rotary clubs and Rotary functions. Rotarians from around Australia and New Zealand serve alongside plastic surgeons as Board and company members, and also comprise the Rotarian Committee of Interplast Australia & New Zealand.  In 2012 Rotary Narre Warren decided – following a bequest of $25,000 to Interplast from the estate of a former member – to add $17,000 to fully fund a future Interplast program that will stand in its name.  That was in Madang PNG in March 2013.
More information
www.interplast.com.au